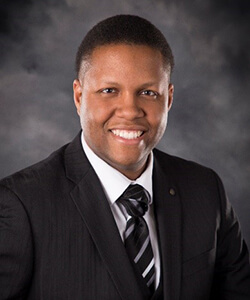 Rodney Gullatte, Jr., C|CISO, C|EH, C|NDA  |  President & CEO
Rodney Gullatte, Jr., is a community leader, US Air Force Veteran, Certified Ethical Hacker, Certified Chief Information Security Officer, Certified Network Defense Architect.  He is the CEO of Firma IT Solutions which is a Managed IT and Cybersecurity service provider for businesses. With a background in Information Technology and Cybersecurity that includes Department of Defense, retail, healthcare, casinos, utility companies and more, Rodney developed Firma IT Solutions to bring enterprise technology solutions to small businesses.
He is an alumnus of the Colorado Springs Leadership Institute, Colorado Springs Mayor's Civic Leaders Fellowship. Rodney currently serves on the boards of the Rotary Club of Colorado Springs, Cultural Office of the Pikes Peak Region, Colorado Springs Black Chamber of Commerce, Better Business Bureau of Southern Colorado, Colorado Springs Conservatory and the Colorado Springs Chamber and EDC.  Mr. Gullatte is an alumni of the 2022 Colorado Governor's Fellowship CIVICO Program and Cybersecurity Consultant for the Pikes Peak SBDC.
Kenya Lee, MD, FAAP  |  Vice President
Dr. Kenya Lee is an experienced board-certified physician practicing for over 20 years. She was previously a partner with Mountain View Medical Group, serving as lead physician, before certifying in medical aesthetics. She now co-owns and operates a medical spa called PureLee Redefined in northern Colorado Springs. She and her husband, Dr. Marvin Lee, started their first business called Principled Service Internal Medicine in 2008 which remains in operation today.
Dr. Lee is active in the local community serving as a founding member of Colorado Springs Chapter of The Links, Incorporated and serving on the boards of Pikes Peak United Way and Pikes Peak Community Foundation. She is a member of Emerging Leaders Development Black Advisory Council as well as an alumnus of the Colorado Springs Leadership Institute and a 2021 Women of Influence Award recipient.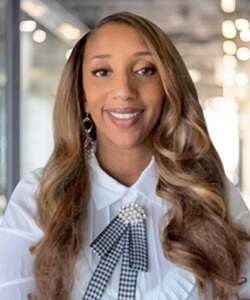 Elizabeth RedCloud  |  Secretary
Elizabeth RedCloud is an AMA Professional Certified Digital Marketer and owner of Technically Social Marketing, a boutique social media strategy, management and marketing agency for businesses in the B2B SaaS industry. She also provides digital marketing strategy and consulting services to SMBs in professional services.
Ellie is a member of the Southern Colorado Better Business Bureau, Southern Colorado Women's Chamber of Commerce, and Association of Accredited Small Business Consultants. Ellie has been recognized as a 2020 Colorado Springs Business Journal's Woman of Influence, and 2020 Rosie Network National Military Spouse Entrepreneur of the Year finalist.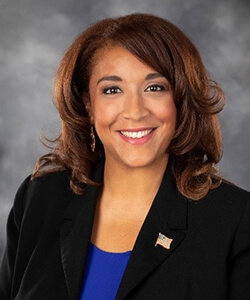 Natasha Hutson  |  Treasurer
Natasha currently serves as Business Access Advisor with US Bank, creating strong client relationships with minority business owners which are based on trust and a dedication to growth and sustainability. In this role Natasha also assists business owners navigate and access resources with local small business support organizations and recommends US Bank solutions based on each client's unique goals and needs.
Natasha currently serves as Treasurer of the Southern Colorado Springs Women's Chamber of Commerce Foundation, Child Advocate Peer Coordinator for CASA, member of the Proud to Serve and Development Network Boards of US Bank, and volunteers with Care and Share Foodbank and United Way.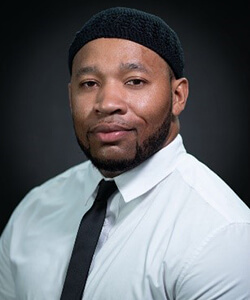 Juaquin Mobley  |  Director
A Denizen of both Colorado Springs and New York, Juaquin Mobley has a degree in Merchandising and Management, with several certifications from the Fashion institute of Technology (SUNY) located in New York City. He is currently the Vice President of Programs for CommunityWorks, a community-based organization that facilitates government funded programs for underserved demographics, and at risk young adults in impoverished areas.
Juaquin is owner of The Community Barbershop, The Community Tree Service, Quality Cleaning solutions and American Seal Coat located in SE Colorado Springs, which are all social enterprise/entrepreneurship.
Juaquin serves as a board member of the CSBCC Board of Directors.
Kendall Godley  |  Director
Kendall Godley is an attorney at Davis Graham & Stubbs LLP, where his practice focuses on corporate transactional law, including mergers and acquisitions, securities law, and general corporate matters. He previously held roles at Rubicon Law, a boutique law firm specializing in startup law, and at Arrow Electronics, a Fortune 500 company. Earlier in his career, he worked as a government contract recruiter for Aerotek and co-founded a small business specializing in contract negotiation and formation.
Mr. Godley received his J.D. from the University of Denver Sturm College of Law and his MBA and B.S. from the University of Colorado at Colorado Springs. During law school, he was a student attorney at the Community Economic Development Clinic, as well as a summer associate at DGS, drafting documents for commercial real estate transactions and researching SEC filings, among other responsibilities. In addition, he served as an associate editor for the Denver Law Review and as a Colorado Pledge to Diversity alumni-student mentor. After completing his undergraduate program, which had an emphasis on marketing, Mr. Godley played professional basketball against other professional clubs in Salerno, Italy.